Free Printable November 2023 & 2024 Calendar
Use our free November calendar to help you get organized as we prepare to head into the holiday season. November is the time of year when you really want to plan so that everything gets done in time! The end of the month and Thanksgiving bring the beginning of the busy holiday season, and it's a wonderful feeling if you can stay on top of all your other commitments in the weeks beforehand. On this page you'll find a lovely range of November calendars to help you organize and plan your commitments for the whole month.
Scroll down the page to see all of our 2023 & 2024 free printable calendar template styles, including simple black and white, autumn, and pretty floral designs. Or, click a link below to jump to the year you want.
November 2023 Calendars
November 2024 Calendars
These printables are for personal, non-commercial use only.
Free Printable November Calendar Templates
Our free calendar templates are here to help you keep track of all your appointments, deadlines, birthdays, projects and more! Countdown to that special event, or keep track of the whole family's commitments by filling out one of these calendars and putting it on your fridge. Whether you want a dedicated calendar to keep track of a project at work, or you're a home-schooling mom who wants to schedule events and activities, these printable calendars are for you!
Our calendars are formatted to print on US letter-size (8.5" x 11" paper). Each calendar on this page starts the week on a Sunday, and several include the major holidays and observances. When you find a calendar template you like, simply click on the image or download button underneath to download your free calendar template.
Blank November Calendar Template
This simple black and white November calendar template is perfect for organizing projects around the home or at work.
Fall-themed November Calendar Template
This cozy fall-themed printable November calendar, adorned with pumpkins, fall leaves, and acorns in warm autumn colors, is perfect for embracing the beauty of the season. Enjoy the charm of November and the beautiful fall atmosphere as you organize your plans!
Beautiful Roses - November Calendar Template
Download this gorgeous floral November 2023 calendar featuring beautiful watercolor roses. Because we need a little bit of beauty every day!
Tropical Hibiscus - November 2023 Calendar
Download our tropical-themed November calendar featuring a vibrant red hibiscus border. Dream of tropical beaches and beautiful places as you plan out your month!
Printable November Calendar - Eucalyptus
This gorgeous November calendar trimmed with beautiful eucalyptus leaves and delicate flower buds is free for you to print at home.
Corporate Printable November Calendar
Looking for a corporate-style blank calendar to help get you organized at work or in your home office? Download our stylish blank 2023 November calendars in landscape or portrait orientation below.
Printable November 2024 Calendar Templates
Click on the image or text underheath to download your free printable November 2024 calendar.
November Holidays & Observances
November is the eleventh month of the calendar year and falls in Q4. It is the last month of Fall/Autumn, and is a magical month of cooler days, cozy nights, and one of my favorite holidays of all - Thanksgiving!
Election Day
Election Day is an annual date set by law for the general elections of federal public officials in the United States. It is always the Tuesday next after the first Monday in the month of November.
Veterans Day
Veterans Day (previously known as Armistice Day) is a federal holiday in the United States which honors military veterans of the United States Armed Forces. It falls on November 11, which marks the anniversary of the end of World War I at the 11th hour of the 11th day of the 11th month in 1918 when the Armistice with Germany went into effect. Read more about Veterans Day.
Thanksgiving Day
Thanksgiving is a national holiday in the United States which is celebrated on the fourth Thursday of November and marks the beginning of the holiday season. It is celebrated by giving thanks for the blessings of the year and is usually marked by sharing a meal with family or friends, attending church services of thanksgiving, and watching special sporting events.
Black Friday
Black Friday refers to the Friday after Thanksgiving and marks the start of the Christmas shopping season. Many stores offer highly discounted prices, and usually the Friday after Thanksgiving is the busiest shopping day of the year in the United States.
Free Printable December Calendars
Looking to plan ahead for next month? Click here to go to our free printable December calendars.
Free Printable Weekly Calendar Templates
Feeling overwhelmed by everything you have to get done this week? Don't panic! Take a look at our fabulous free printable weekly calendar templates. Whether you're a list-maker, a time-tracker, or just someone who loves to stay organized, we've got a design that will help keep your week on track!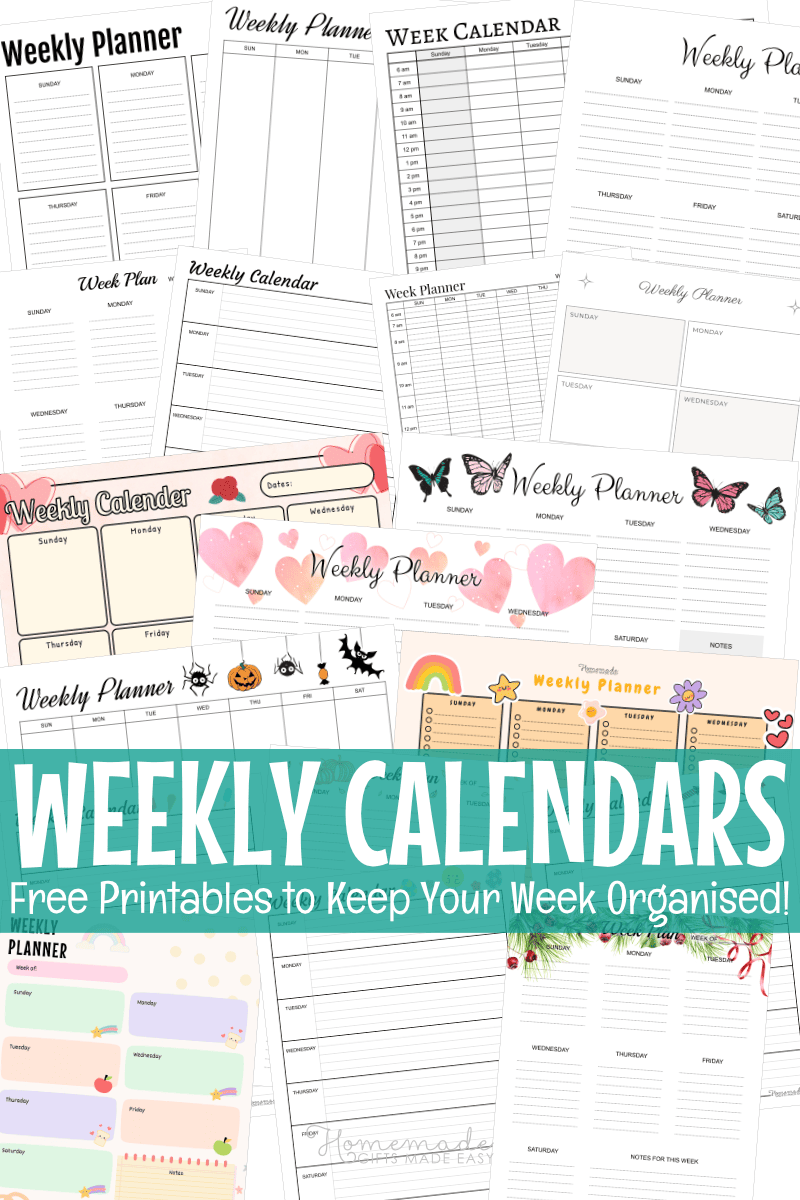 Year Calendars
Monthly printable calendars are great, but if you're craving a bigger picture, our year calendars are just what you need! Head on over to our special Printable Year Calendars page and get a bird's-eye view of your entire year. Say goodbye to missing important dates and hello to a year filled with organization and success!
More Free November Printables
We hope you found our free printable November calendars useful! If you're looking for more printable resources, take a look at some of our other free Fall printables.
Fall Coloring Pages
Thanksgiving Coloring Pages Turkey Coloring Pages
Pumpkin Coloring Pages
Pumpkin Template
Leaf Template

×
This printable is for personal, non-commercial use only.