Free Printable St Patrick's Day Word Search Puzzles
Last updated: February 7, 2023
Celebrate St Patrick's Day with a fun and free St Patrick's Day word search! You don't need to be Irish to enjoy the magic of Saint Patrick. These word searches are fun as well as educational, and the perfect activity for children of all ages (and the young at heart!)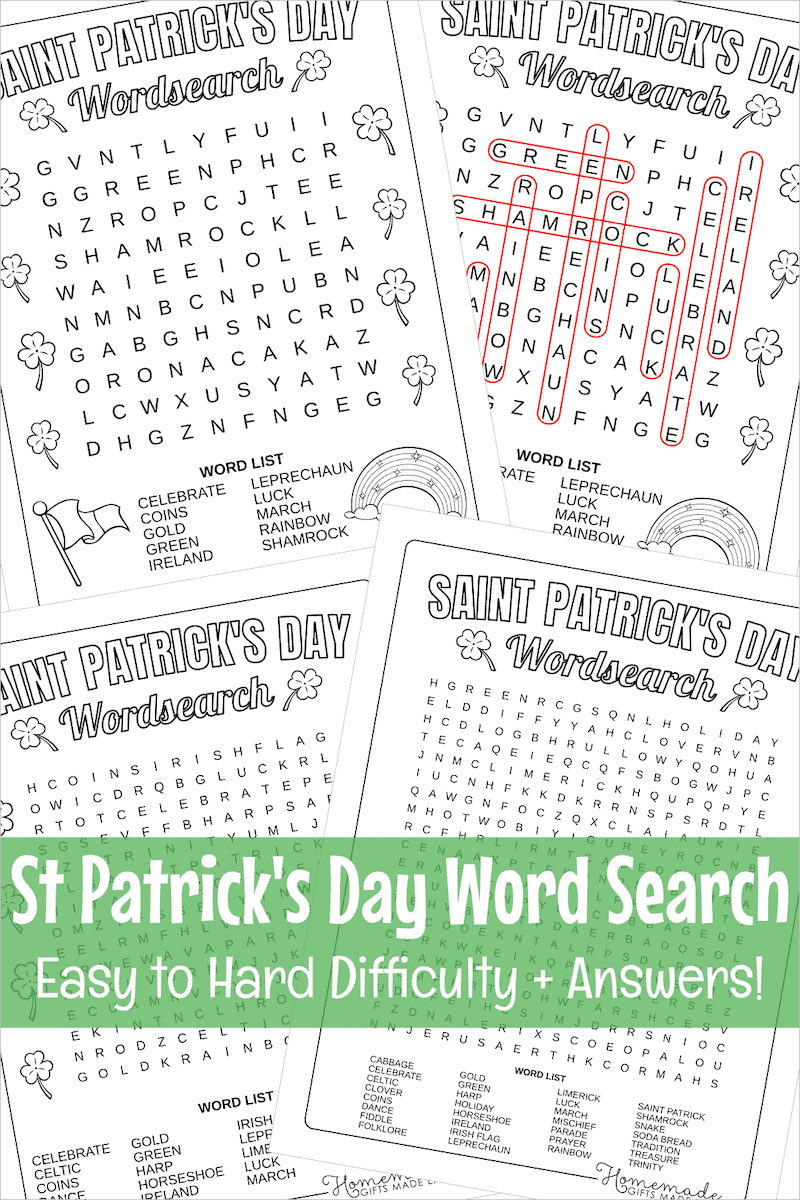 Below you can find a St Patrick word search for each level: easy, medium, and difficult. All you need to do is choose a level and click to print. Or even better, print and complete all three!
When you find a word, simply draw a circle around it, and then cross off the word on the list. If you want to check your answers, each St Patrick's Day word search puzzle comes with a solutions page in case you get stuck. Have fun and enjoy exploring the joy and magic of this special day in Irish culture.
Jump to a section or scroll down the page to see all the St Patrick's Day word search puzzles and solutions. These printables are for personal, non-commercial use only.
Easy | Medium | Hard | Solutions
Easy St Patrick's Day Word Search
This easy St Patrick's Day word search pdf is perfect for young children who are still getting the hang of word search puzzles. They'll gain confidence, learn new words, and have fun finding all the St Patrick's themed words in this puzzle.
There are 10 words, and the word directions are only down and right.
Medium St Patrick's Day Word Search
This medium-level free printable St Patrick's Day word search will suit slightly older children who are more confident reading and finding words. Like all our St Patrick's word searches, it's free and printable. Filled with plenty of words relating to St Patrick's day, this word search will expand your child's vocabulary, while they have plenty of fun at the same time.
There are 20 words, and the word directions are down, right, and diagonal down-right.
Hard St Patrick's Day Word Search
Looking for a challenge? Older children will love this word search which is a little harder. If you're looking for a St Patrick's Day word search for adults, this puzzle will also be perfect. With plenty of familiar Saint Patrick's Day words like "Ireland," "Rainbow," "Leprechaun", "Shamrock" and more, this free printable word search is ideal for celebrating Saint Patrick with your family.
There are 30 words, and the word directions are up, down, left, right, and diagonals. Look out, because some of the words might be backwards!
Solutions for St Patrick's Day Word Searches
Are your kids having trouble finding those last one or two words? No problem, here are the solutions so you can help your kids find where those tricky remaining words are hiding on the page.
More Printables for Kids
Looking for more printable activities to keep your kids entertained? Here are some other pages you might enjoy, including some St Patrick's Day themed ones.
St Patrick's Day Coloring Pages
Shamrock Coloring Pages
Shamrock Templates for Crafts
Rainbow Coloring Pages
Word Search Printables Collection
HUGE Coloring Pages Collection
Color by Number Printables
Or if your kid is just wild about word searches, don't miss our amazing selection of Printable Word Searches on All Topics and our Hard Word Searches.