Traditional Apple Chutney Recipe
Looking for an apple chutney recipe? This traditional chutney recipe tastes delicious and is straightforward to make. It goes really well with hams and cheeses and makes a lovely Christmas present.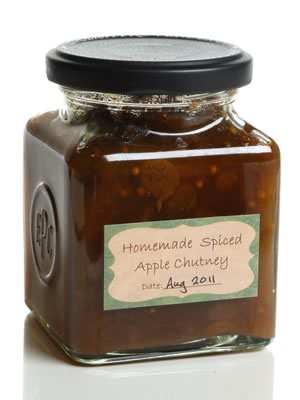 Apple Chutney Ingredients
When we moved house last year and discovered our neighbour has several apple trees I decided it was time to make chutney!
To make apple chutney you will need:
1.5kg (3.3 lb) cooking apples, peeled and diced. That's the weight after peeling and coring.
750g (1.6 lb) light muscovado sugar
500g (1.1 lb) raisins
2 medium onions, finely diced
2 tsp mustard seeds
2 tsp ground ginger
1 tsp salt
700 ml (3 US cups) cider vinegar
Makes approximately 2.5L (~5 US pints)
Apple Chutney Recipe Variations...
You can really play with the ingredients that go into a chutney to develop your own flavour and style. I think the apple/sugar/onion/mustard/vinegar are all important to "make" an apple chutney, but the flavour can vary depending on the accompanying dried fruit and additional spices.
Popular modifications include adding a few tablespoons of your favourite curry paste; or some mixed spice, cardamon, or coriander seed; fresh ginger instead of dried; mixed dried fruit instead of dried raisins; and so on...
Also, you could try decreasing the amount of sugar or raisins if you don't like a really sweet chutney. Sweetness will vary too depending upon the type of apples you use. Eating apples tend to be sweeter than cooking apples, so reduce the sugar to around 500g or even less if you are using eaters.
How to Make Apple Chutney
Well, once you've done all the hard work peeling and chopping your apples, you'll find that cooking the chutney is SO easy!
Cooking apple chutney
Place all the ingredients in a large heavy-based pan and stir to combine. Bring the mixture to the boil over a medium heat, and then simmer uncovered until the mixture is thick and pulpy. This normally takes between 1 and 2 hours, but do keep an eye on the simmering mixture in case yours thickens sooner (I'd check regularly after the first 40 minutes or so).
Once your mixture has achieved a thick consistency, turn off the heat and allow the mixture to cool.
Prepare your jars
While your apple chutney is cooking you can prepare your storage jars.
Wash your glass jars and lids in hot soapy water and rinse well. Allow to air dry upside down on a clean tea towel. Position jars upright on a baking tray (not touching each other) and pop into a preheated oven (180°C/350°F) for 10 minutes. Meanwhile put your lids in a pan of boiling water for 10 minutes.
Storing your chutney
Ladle the spiced apple chutney mixture into the sterilised glass jars. Seal and label.
This apple chutney recipe is ready-to-eat straight after you've cooked it, but you'll find the flavours mature and change over time into something even yummier! I personally think it tastes best after 3 months or more. The unopened jars will keep for up to 2 years or so, but I'm sure they'll be eaten before then! Once opened, the chutney should be kept refrigerated and eaten within 3 weeks.
Try these other recipes
You might also like...