How to Make Vanilla Extract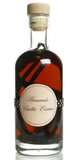 Learn how to make vanilla extract with these step-by-step instructions. The recipe on this page is for full-strength vanilla extract, unlike some of the other recipes we've seen which will just give you vanilla-scented vodka.
This is a fabulous homemade gift idea for all those home bakers and foodie friends, and we've even provided a pretty printable label so packaging it up is easy. A bottle of this will last for years... and it also makes your kitchen smell amazing when you make it! When you smell it you'll probably decide you want a bottle for yourself too!
How to Make Vanilla Extract - Materials
To make one bottle of vanilla extract you will need:
6 vanilla beans. I bought bourbon vanilla beans on Amazon - I chose this variety because it's the strongest variety that gives the fullest flavor.
approximately 250ml (1 cup) vodka, inexpensive brand is fine
glass bottle with 1 cup capacity
sharp knife
spoon
pretty ribbon to decorate your finished bottle with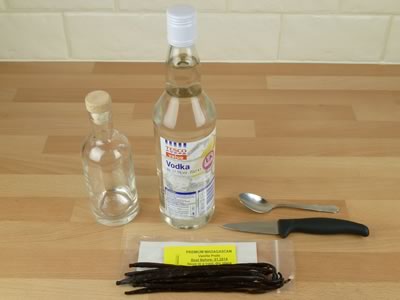 After scouring the web for the best vanilla extract recipe, we learned that using 6 beans per cup of alcohol will make full strength vanilla essence, as defined by the FDA - see this tutorial on Instructables for more detail, where author Ian also discusses the subtleties of different varieties of beans. You could even use more than 6 beans per cup of alcohol if you like. Many professional bakers use double-strength vanilla extract, which would require 12 or more beans per cup of alcohol.
Another variation on making vanilla extract is to use rum or brandy instead of vodka, which change the flavor somewhat. I've chosen to use vodka because it has the most neutral flavor, and I want all the flavor to come from the bean rather than the base alcohol.
Some people recommend storing your homemade vanilla extract in a dark colored bottle, to protect the fragile oils from damaging sunlight, but I figure that most people store vanilla essence in a dark cupboard anyway so using clear glass should be fine if you can't find dark bottles.
How to Make Vanilla Extract
Firstly you need to slit each bean down the centre to expose the vanilla seeds inside. Slice from just below the stalk so you don't split the bean completely.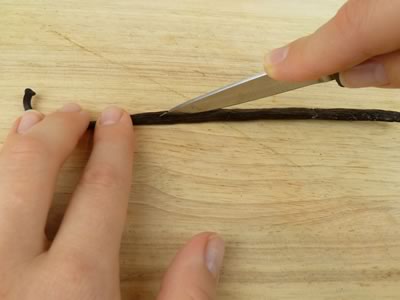 So this is what it should look like once you've slit along most of the bean...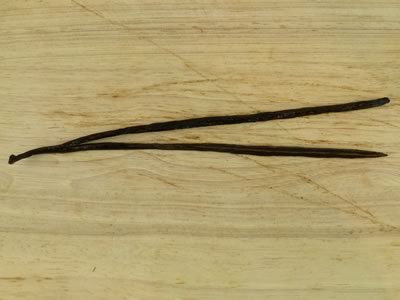 Once slit, we recommend you scrape out the seeds (called caviar!) using a spoon or blunt knife and keep this to one side.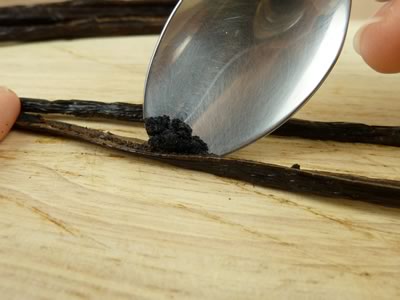 It kind of does look like caviar! This step smells absolutely amazing.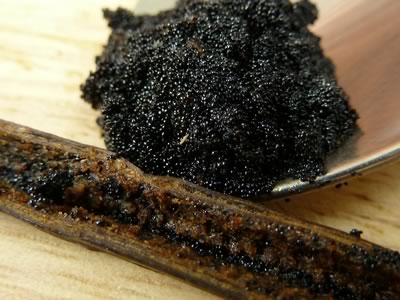 So you should have a small pile of caviar from your 6 vanilla pods.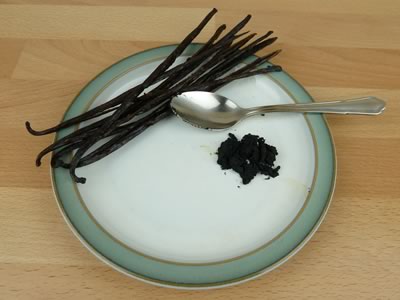 Transfer the caviar into your bottle. Use a funnel or just the blade of a butter knife to do the transfer.
Now poke each vanilla bean inside your bottle.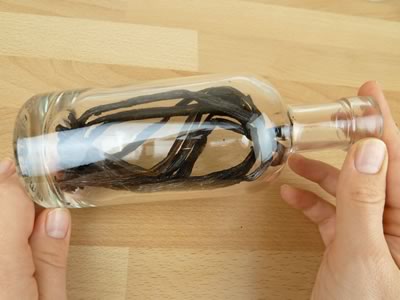 Pour the vodka over the vanilla beans. Fill up to the neck of the bottle but not to the very top. If you fill to the very top it will make it difficult to mix your extract properly because the liquid won't have anywhere to move when you shake the bottle.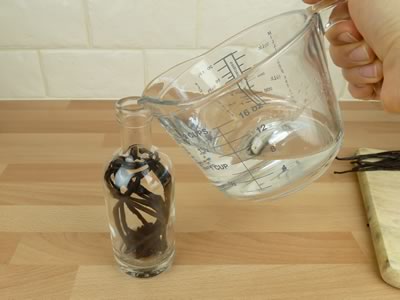 Seal the bottle and shake. Store your bottles in a dark cupboard and shake them every few days.
It will take 6 weeks before the vanilla bean has infused the vodka and you have an extract that can be used in baking and cooking. The extract will continue to improve and grow in intensity of flavour over time.
We find that scraping out the seeds of the vanilla bean results in a stronger extract (left bottle) in a shorter period of time (compare to bottle on right where we didn't scrape out the seeds). If you decide not to scrape out the seeds this you will have to store your extract for longer before you can use it.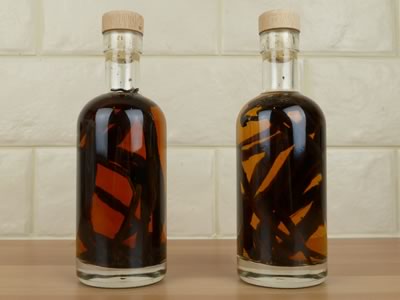 How to Make Vanilla Extract - Printable Labels
Once your extract is ready to be used you can now decorate the bottle and give it as a gift!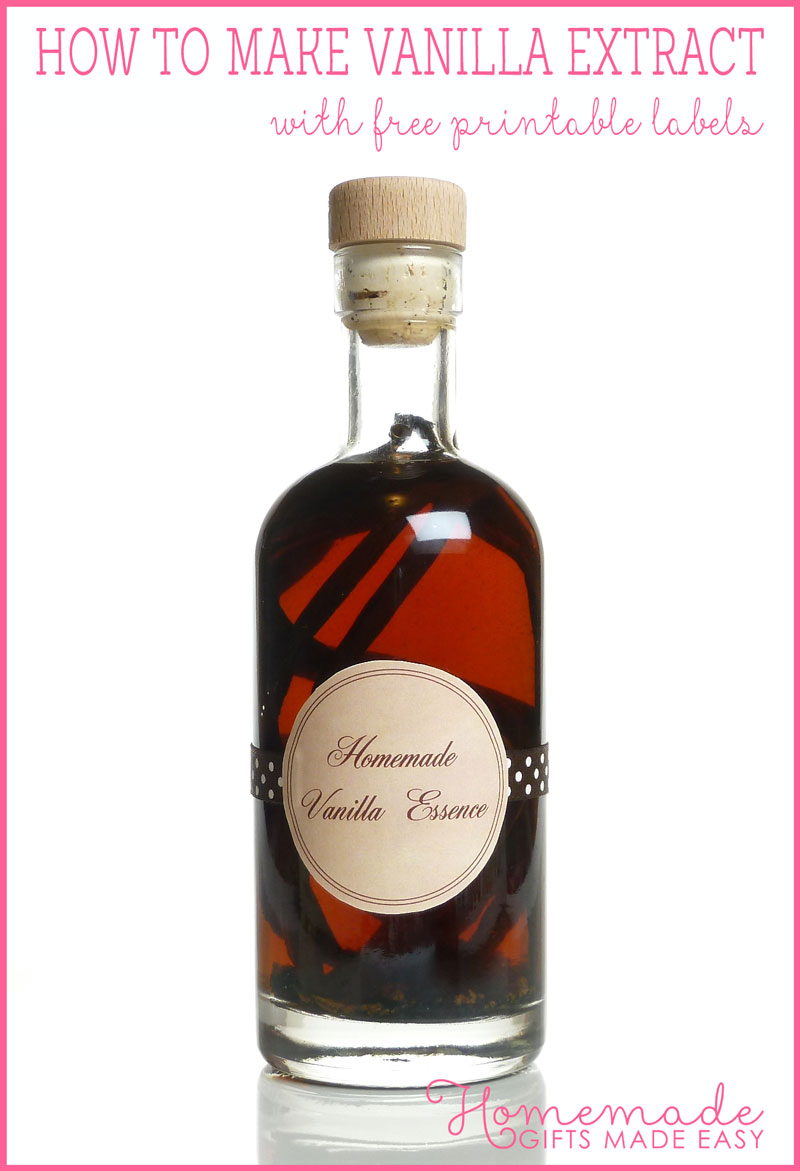 I've used some cute brown spotty ribbon and made my own printable labels which you can download for free:
Download "vanilla extract" labels
Download "vanilla essence" labels
I made both vanilla extract and vanilla essence labels for you to print because I know in the USA and England people call it extract whereas my friends in Australia (where everything is upside down) call it vanilla essence!
To glue the labels on you can either use a glue stick (cover the label thoroughly, right to the edges) or else print the label directly onto sticker paper.
What's next?
Now you've learned how to make vanilla extract you may also like to make these other easy homemade food gifts in a jar: