Homemade Cordial Recipes
Homemade cordial recipes are reminiscent of childhood garden parties and endless summer evenings... Re-live that feeling by making your own refreshing cordials at home - the perfect summer gift idea!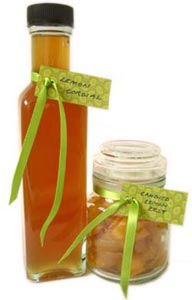 My sister-in-law makes cordial from the lemons and grapefruits grown in her garden. Her special cordial recipes turn these fruits into delicious cordials, perfect for drinking on a warm summer afternoon.
Her versatile syrups are also wonderful on ice cream and pancakes, drizzled over fruit salad, as a hot lemon drink, or as a mixer for fabulous cocktails and mocktails.
I am a particular fan of her lemon cordial and I am sure you will love it too! Add a sprig of mint and a slice of lemon and enjoy!
Lemon Cordial & Candied Lemon Peel Recipe
Ingredients:
Makes approximately 3L of cordial
1L water
2kg sugar (white or raw sugar is fine. I've used raw sugar here which adds a rich caramel flavour and a darker colour)
Peel of 6-8 lemons ( thin yellow outer layer only , the zest)
1.5L lemon juice (roughly 20 lemons of a juicy variety, depending upon size and ripeness)
Method:
Bring water to the boil in a large pot.
Dissolve caster sugar (or use brown sugar for a more caramelly taste) in the water.
Once dissolved, add the lemon peels. Choose the peel off your best lemons and avoid greener peel as this will taste bitter. Also, make sure you only use the outermost, yellow layer of the peel (the zest).
Simmer the mixture until the lemon peels begin to curl up and look dehydrated. This should take 45 minutes to 1 hour.
Add the lemon juice and heat the mixture until boiling. Turn down the heat and simmer for 20-30 minutes.
Remove the lemon peel using a slotted spoon (but save!), and remove the syrup from the heat to cool slightly.
Meanwhile, prepare your bottles by washing them in hot, soapy water. Dry off in a cool oven (120 °C / 250 F) for 20 minutes.
Bottle and label your cordials. Store in a cool, dark place. Once open, keep refrigerated.
Candied Lemon Peel (optional)
So, what should you do with the saved lemon peel?
Simply spread the lemon peel out on a baking tray lined with grease-proof paper and sift over some icing sugar....enjoy!
A perfect gift for those people who need a bit of a buzz!
Related pages
Here are some other recipes I think you might enjoy...