No Bake Lemon Cheesecake Recipe

This simple cheesecake recipe is quick and easy to make and has such a light, smooth texture, and a delicious tangy taste. It's a big favorite in our house, and I hope you enjoy it too!
No Bake Lemon Cheesecake Recipe
Cheesecake Filling Ingredients
1 can of evaporated milk (375 mL), chilled in the fridge
225g/8oz Philadelphia cream cheese
1 cup sugar
1/2 cup lemon juice
2 tbsp grated lemon rind (optional)
1 tbsp gelatine, dissolved in 1/2 cup hot water and then allowed to cool
1 tsp vanilla essence
Biscuit Base Ingredients
2 cups sweet biscuits, crushed
4-6 tbsp butter
1/2 tsp cinnamon
Make your Cheesecake
Assemble the Base
Melt the butter in a small saucepan over a low heat. Pour over crushed biscuits in a bowl, and add the cinnamon to taste. Mix thoroughly, then press mixture into the bottom of a large springform cake tin.
Make the Cheesecake topping
1. In one bowl, beat the cream cheese and sugar together. Add lemon juice, rind, gelatine-water mixture, and vanilla essence.
2. In another bowl, beat the evaporated milk until very stiff.
3. Add the whipped evaporated milk to the cream cheese mixture and combine well.
4. Pour into cake tin over the biscuit base. Allow to set in the refrigerator for 2 hours.
Decorate the top of your lemon cheesecake with candied lemon zest , fresh fruit, stewed or glace'd fruit...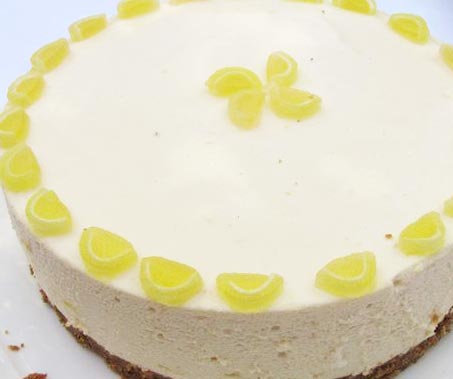 What's Next
If you are looking for more easy-to-make lemon recipes, you might also like my lemon curd and lemon cordial recipes.
You might also like our strawberry cheesecake or these other gift ideas: