Christmas Mulled Wine Recipe
Makes a Great Homemade Christmas Food Gift!

Try this fragrant and delicious Christmas mulled wine recipe - I bet you'll love it!
My husband and I lived in England for a few years, and ever since then I associate Christmas with the wonderful aroma of hot mulled wine. You can buy ready-made mulled wine in the store, but nothing beats the smell and taste of one that you prepare yourself.
Mulled wine spices are perfect as a homemade Christmas food gift. Wrap them up in a sachet, and present them along with a bottle of red wine! My sister loves mulled wine, so I even gave her some for her birthday :-)

Per bottle of red wine, here's what you need:
Mulled wine spices: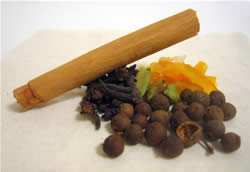 3-4" cinnamon stick (7-10cm)
30 cloves
20 allspice berries
3 cardamom pods
1tsp orange peel or mixed peel (from baking section of supermarket)
Extra materials to make spice sachet:
6" (15cm) square of cheese-cloth, muslin or other plain cotton fabric. Backup option: improvise with a coffee filter or a teabag (empty out the tea).
Cotton thread to bind the sachet shut
Colourful ribbon (just for looks - don't cook it!)
Making up the sachet is easy - just wrap all the spices up in the cloth, seal by tying with cotton thread, and tie a ribbon around to pretty it up :-) You'll need to break the cinnamon stick into pieces to make it fit. By the way, make sure you tell the recipient to remove the ribbon before cooking!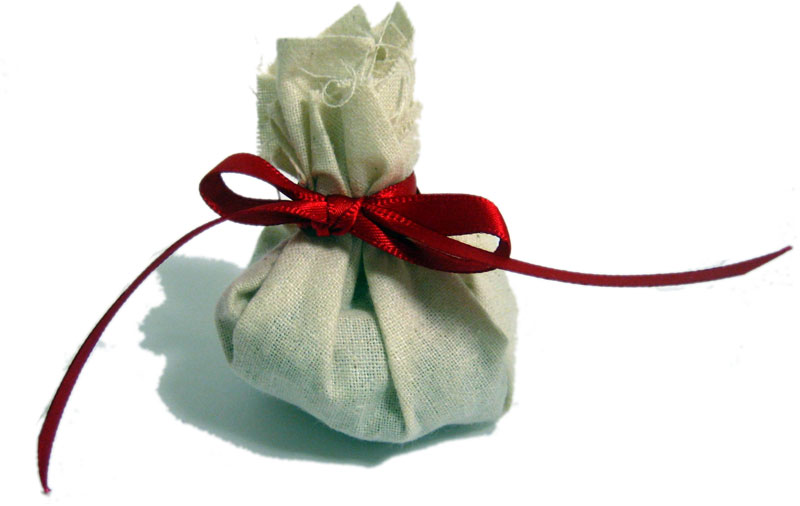 Method of preparation
Add spices, 3 Tbsp of sugar, and 750mL (one bottle) of red wine to a saucepan. If using a sachet, remove ribbon first! Sometimes I slice an orange into the saucepan too. Bring to the boil and simmer for 15min. Ladle into mugs and serve hot. Garnish with a slice of orange for a nice touch. If you like, you can also add a wee bit of brandy to give it a bit of kick.
What sort of red wine to use? Pick something inexpensive but drinkable. Cabernet Sauvignon, Zinfadel, Merlot, or a Spanish red all work well. There's no point using a really expensive red wine, because the taste will be so altered by the spices. But don't use a really cheap and rough red either.
What next?
I hope you enjoyed my Christmas mulled wine recipe! If you'd like to make some more yummy food gifts, check out my homemade food gifts page .