How To Make Earrings: Knotted Pearl Design
Learn how to make earrings using this quick and easy design. They make a wonderful gift for any occasion and are sure to be admired!
Once you know how to make earrings, you will always have a gift idea up your sleeve. This is a great design if you are short on time, or money, and if you are a novice beader. No special equipment is needed - all you need to do is get creative with colour!
You really can't go wrong making a pair of earrings as a gift. Most women have their ears pierced, and all women like to glam it up every now and again (or every day!). A new pair of earrings can help to dress up an old outfit and make you feel more fun, funky, elegant or glamorous (depending on your new pair of earrings)! Make someone feel special by tailor making a pair of earrings just for them!
The earring instructions on this page were designed for a birthday present for my sister, along with a matching necklace . The earrings really finished off the look, and were made using beads of her favourite colour - red!
So first you need to decide which beads to make your earrings with...
Why not make pearl earrings for your Mom? A perfect birthday, Christmas, or Mother's day gift!
Use funky, colourful beads to make a gift for your teenage daughter?
Or sparkly crystals for a touch of glam, perfect for a girl who is always on the go!
Wooden beads can also be used to make earrings with a down-to-earth feel - perfect for intrepid friends!
Learn how to make earrings using the simple instructions below. This design works best when you choose 2 slightly different sizes of beads.
How to Make Earrings:
The instructions below are based on the pearl earrings that I made for my sister. I use silk thread as it is traditionally used for stringing pearls, but you can also use a nylon beading cord for other bead types.
Equipment
2 pieces of 35cm silk thread (choose a colour to match your beads)
4 beads, 9-10mm diameter (cream pearls in this case)
4 beads, 6-7mm diameter (red pearls in this case)
2 earring fixtures
2 needles (make sure they are thin enough to fit your bead holes)
thin pointy object (knitting needle, inside of a ball-point pen...)
superglue
Estimated time to make pair of earrings : 20-30 minutes.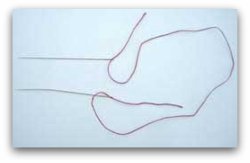 Step 1
: Thread one needle onto each end of one piece of bead thread.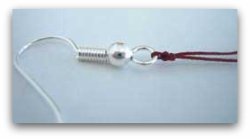 Step 2
: Thread the fixture and pull thread so that there is an equal amount on each side. Secure with a simple overhand knot. Treat the two separate ends of thread as one piece of string when tying this knot.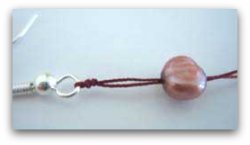 Step 3
: Thread a smaller bead onto both thread.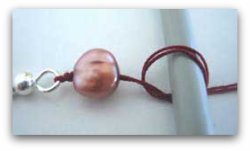 Secure the bead in place with an overhand knot. Put a thin pointy object through the loop of the knot as you are tying it (a knitting needle or the centre of a pen can be handy tools). Pull the knot to the right location along the string using this object.
Slide the object out of the loop once the knot is in place, and push in the direction of the knot with your thumb and forefinger to close off the loop of thread and make the knot tight and secure.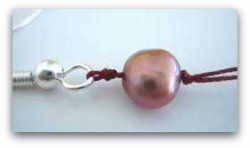 It should now look something like this.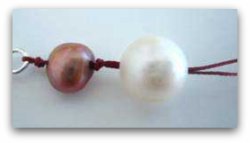 Step 4
: Slide a bigger bead onto both threads.
Secure the bead with an overhand knot. Use your pointy object to pull the knot in place. Allow for some space between this bead and the previous one.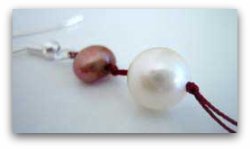 It should now look like this.
Step 5 : Repeat steps 3 and 4 again so that you have threaded 2 small and 2 large beads onto your thread.
Step 6
: Make the last knot a double-knot. Use a drop of super glue on the knot to prevent it from coming undone. Once the glue has dried, carefully cut off the extra thread. Repeat steps 1-7 to make a matching pair of earrings.
And here is the finished pair of beautiful earrings - I hope you enjoyed making them!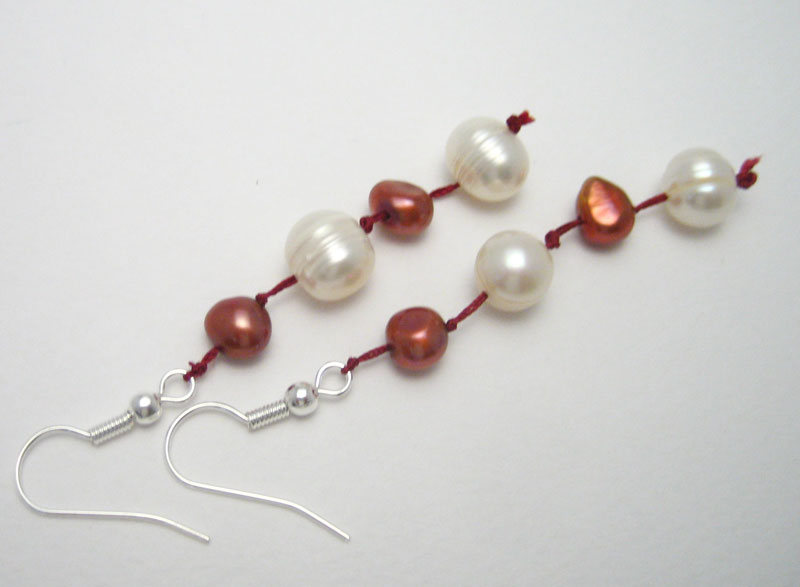 What Next?
Now that you have learnt the knotting technique, follow the how to make earrings instructions with another type of bead and make another quick and easy gift!
Want more free jewellery making instructions? Make a beautiful necklace to match your pair of earrings.