Free Printable March 2024 Calendar
Here is a free March calendar for this beautiful third month of the year. Spring arrives in March, and what better way to celebrate the season of new beginnings, than with a fresh new calendar printable! On this page you'll find a stylish range of calendars to help you re-energize and organize your commitments for March. From simple black and white design to seasonal templates featuring St Patrick's day and Easter pictures, there are some great designs to choose from!
Our free calendar templates are here to help you keep track of all your appointments, deadlines, birthdays, projects and more! Countdown to that special event, or keep track of the whole family's commitments by filling out one of these calendars and putting it on your fridge. Whether you want a dedicated calendar to keep track of a project at work, or you're a home-schooling mom who wants to schedule events and activities, these printable calendars are for you!
Our calendars are formatted to print on US letter-size (8.5" x 11" paper). Each calendar on this page starts the week on a Sunday, and several include the major holidays and observances. When you find a calendar template you like, simply click on the image or download button underneath to download your free calendar template.
These printables are for personal, non-commercial use only.
Blank March Calendar Template
This simple black and white March calendar template is perfect for organizing projects around the home or at work.
March Calendar Template - St Patrick's Day
This St Patrick's day-themed March calendar template is a fun way to plan your schedule in this lucky month of March!
March Calendar Template - Easter
This super cute Easter-themed printable March calendar will help you to prepare for the Easter bunny's arrival! With spring flowers, cute baby chicks, and colorful Easter eggs, it is a cheerful design that will brighten up your month!
March Calendar Template - Roses
Download this gorgeous floral March 2024 calendar featuring beautiful watercolor roses. Because we need a little bit of beauty every day!
March 2024 Calendar - Tropical Hibiscus
Download our tropical-themed March calendar featuring a vibrant red hibiscus border. Dream of tropical beaches and beautiful places as you plan out your month!
Printable March Calendar - Eucalyptus
This gorgeous March calendar trimmed with beautiful eucalyptus leaves and delicate flower buds is free for you to print at home.
March Holidays & Observances
March is the third month of the calendar year and falls at the end of Q1. It marks the beginning of Spring in the northern hemisphere and brings milder weather, beautiful flowers, and the opportunity to re-energize and "Spring clean" after the cold winter months.
Saint Patrick's Day
Saint Patrick's Day is celebrated on March 17. It marks the anniversary of the death of Saint Patrick, the patron saint of Ireland. In the United States, St. Patrick's day is not an official holiday, but it is observed throughout the country as a celebration of Irish-American culture. The holiday is characterized by wearing green clothing and shamrocks, drinking alcohol, parties, religious services, and street parades. Read more about Saint Patrick's Day.
Easter Sunday
Easter Sunday is a Christian religious holiday that commemorates the resurrection of Jesus Christ from the dead three days after his crucifixion and burial on Good Friday. Easter Sunday is observed by both Christians and some non-Christians and celebrated with church services, Easter parades, the Easter bunny, and hunting for eggs. It is preceded by Lent, a period of penitence and fasting, and is a day of joy and celebration (and eating quite a bit of chocolate!). Read more about Easter Sunday.
Free Printable April Calendars
Looking to plan ahead for next month? Click here to go to our free printable April calendars.
Free Printable Weekly Calendar Templates
Feeling overwhelmed by everything you have to get done this week? Don't panic! Take a look at our fabulous free printable weekly calendar templates. Whether you're a list-maker, a time-tracker, or just someone who loves to stay organized, we've got a design that will help keep your week on track!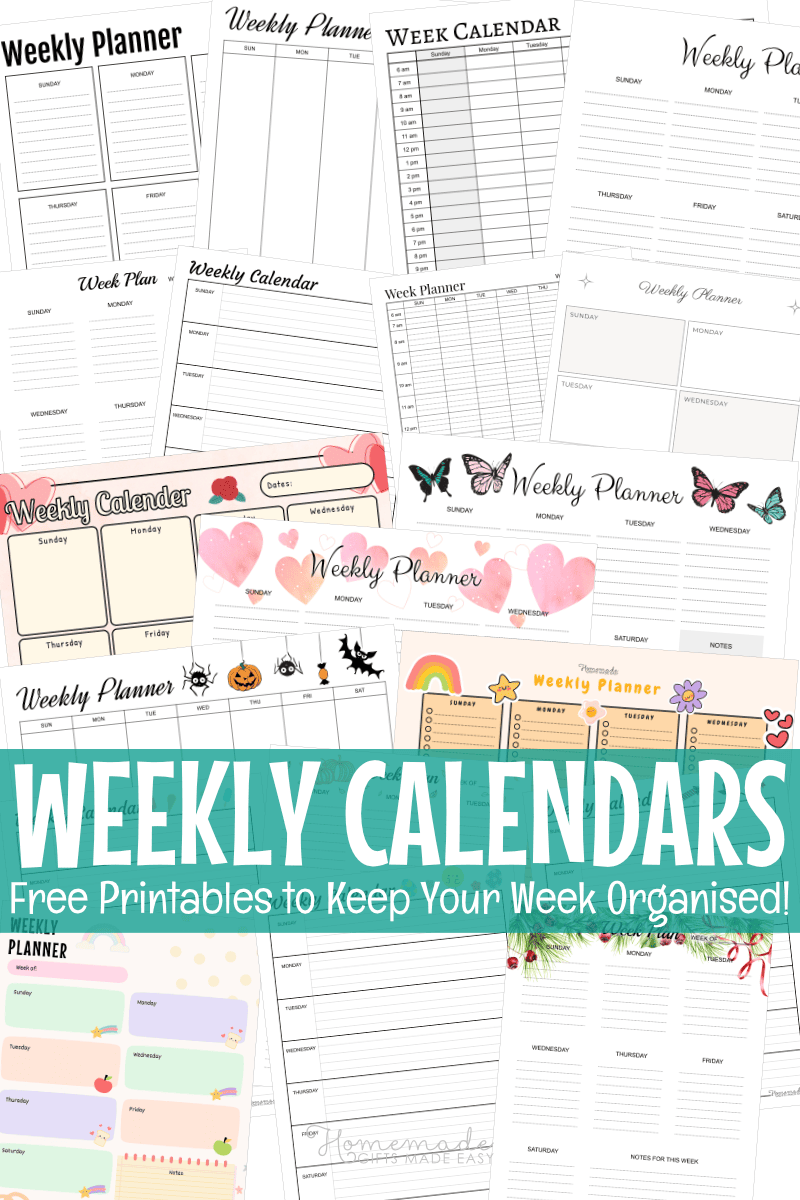 Year Calendars
Monthly printable calendars are great, but if you're craving a bigger picture, our year calendars are just what you need! Head on over to our special Printable Year Calendars page and get a bird's-eye view of your entire year. Say goodbye to missing important dates and hello to a year filled with organization and success!
More Free March Printables
We hope you found our free printable March calendars useful! If you're looking for more free printable resources, take a look at some of our other seasonal printables.
St Patrick's Day Coloring Pages
St Patrick's Day Word Searches
Printable Easter Cards
Easter Coloring Pages
Easter Egg Coloring Pages
Easter Bunny Coloring Pages
Easter Word Search
Spring Coloring Pages
×
This printable is for personal, non-commercial use only.