In 15 Minutes, create a
Personalized 21st Birthday Poster Gift
...that they're going to love
Create a personalized poster that celebrates all the remarkable things that happened on the year they were born, including the fact that they were born!
It's just so easy to personalize, print and frame your poster. We take care of all the fiddly formatting and research the facts, and you get a super cool and unique gift in minutes. It will be the talking point of the party as everyone reminisces over how much the birthday boy/gal has grown up!
This bold and colorful palette is a great choice for bright happy people!
I wanted to write and let you know that my friend LOVED his birthday poster.....as did all his friends and family at the birthday party!" Jana, Virginia
There are lots of colours to choose from and the posters look great framed in black or white.
Everyone thought this was really cool and asked me how I made it! Rachel, Idaho
Make My Poster Now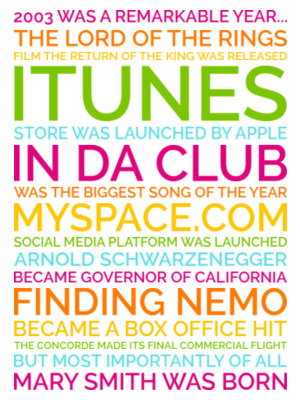 Please wait while generator loads...

Everyone loved the poster and it looked very professional in the frame I used. The birthday girl even teared up a bit as she read it! Pamela, Indiana
Questions and Answers
I have no idea what to write in my poster. Can you help?
Sure - check out my poster examples for inspiration.
How do I print and frame my poster so that it looks as nice as in your photos?
It's actually pretty easy. See my specific printing and framing tips. Here's what a past customer had to say:
I hate it when things don't turn out as good as what they look like in the photo, but this actually turned out better than I expected and my husband loved it! Vicki, Missouri
Is my printer good enough?
Almost certainly. The trick is to use good quality paper. See my printing tips.
What if I buy it but then it looks bad when I print it?
I'll give you 100% of your money back immediately, no questions asked. Just email me.
What are the print size options?
8 × 10 inches is a popular size for photo prints, so it's a good choice if you want to print your poster at a photo print shop. Also it's usually easy to find 8 x 10" photo frames.
8.5 × 11 is a common printer paper size in the USA, so it's a good choice if you live in the USA and you want to print your poster at home.
A4 is 210 × 297 millimeters or 8.27 × 11.69 inches. It's a popular printer paper size in most countries other than the USA.
After you purchase you can download your poster in all 3 sizes for no extra cost.
Can I print a different size other than the ones you offer?
Sure! Take your downloaded file to a print shop and they'll be able to print it in whatever size you ask them to.
What if I give it to them but they don't like it?
I'll give you 100% of your money back immediately, no questions asked. Just email me. Seriously.
What's your guarantee or returns policy?
Our "love it" guarantee: If the recipient doesn't LOVE their poster, email me and I'll refund every penny immediately, no questions asked, no matter how long it was since you purchased.
Why should I pay for this when I could just make it myself?
If you've got the skills, go for it! Just don't underestimate how many hours it will take (hint: probably 2 hrs, and even then it might not look quite right). Just to give you an idea: when I created this poster-maker it took me 2 hours just to find the perfect font, and then about 1hr to create each of the color palettes. But then again maybe I'm just a perfectionist.
Example Poster Wording
2000 wording example (for someone turning 21 in 2021)
Here's an example poster wording that you can use as a starting point for writing your own message. It's already pre-filled into the poster maker. I've repeated it here just so that you can read it more clearly.
2000 was a remarkable year...
It was the start of the
21st century
The first crew arrived at the International
Space Station
Sony launched the
Playstation 2
The dot com bubble burst
India's population reached 1 billion
Gladiator
won five academy awards
10 million computers were infected by the
ILOVEYOU virus
The summer Olympics
were held in Sydney Australia
But most importantly of all
Mary Smith was Born
Here are some more great events from 2000 that you could use to customize your poster:
Tate Modern Museum opened in London
The State of Vermont legalized same-sex civil unions
Bill Gates stepped down as Microsoft's CEO
The Ancient Port of Alexandria was discovered by divers
The London Eye world's largest ferris wheel opened in London
Harry Potter and the Goblet of Fire was published
The Millennium Bridge opened in London and closed again for safety reasons
The last ever Peanuts comic strip was published
The UK experienced their worst snow storm in 50 years
The worst wildfires in 50 years burned 5 million acres of land in the USA
The feared Y2k bug never happened
Baidu (China's web search engine) was founded
The Tagish Lake meteorite impacted in Canada
The last nuclear reactor at Chernobyl was finally shut down
Survivor premiered on American TV
Scientists announced the first draft of the human genome
GW Bush defeated Al Gore in the USA presidential elections
Want even more facts? Check out 2000 on The People History and 2000 on Wikipedia.
Printing Your Poster
Is my printer good enough?
Most home inkjet printers these days are excellent quality, even the cheaper ones. The key to getting really good quality prints is to use the right paper...
What kind of paper should I use?
I recommend using matte photo paper. The vibrancy of the colors and crispness of text you get when using photo paper are leagues ahead of what you get using regular office paper. Ideally you should use the same brand of photo paper as your printer, or else stick to a well-known brand like Canon, HP, or Epson.
If you're giving an unframed print as a gift, then it's important for the paper to feel thick and high quality. It's worth getting the best quality matte paper that you can afford, like "Canon Luster Photo Paper" or "Canon Semi Gloss".
If you're giving a framed print as a gift, then the thickness of the paper is less important so long as the colors are vibrant. In that case a thinner photo paper like "Canon Matte Photo Paper" would be a good option - that's the paper I personally use most of the time.
Can I just print it at Kinkos instead?
Yes! That's a good option too, and many of our customer choose to do this.
Framing Your Poster
What type of frame
Personally I like "matted" frames, which are ones that have a white border around the poster. I think they look great, and they also make your gift feel bigger and more substantial. If you ever visit an high-end photography gallery you'll notice that this is the type of frame that they use, simply because they look fantastic.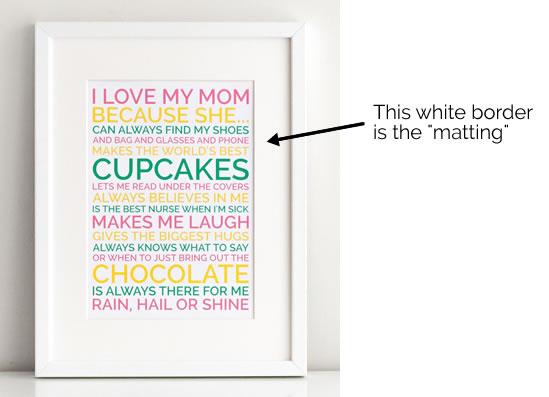 Where to buy a frame
In the USA, you can get a great-looking frame for about $14. I recommend
8 x 10" photo frames from Amazon
8 x 10" photo frame from Walmart
In the UK, the best place I've found to get frames is Hobbycraft. You can get a 30 x 40 cm frame (to hold an A4 poster) for about £10.
Posters for Other Occasions
Related Pages
Other personalized gift ideas: