Fifty Fantastic 50th Birthday Party Ideas
Looking for 50th birthday party ideas because you or a friend are turning the big 5-0 this year? No doubt you'll want to celebrate this huge milestone with a memorable party! If you are planning an epic shindig, you've come to the right place for 50th birthday party ideas.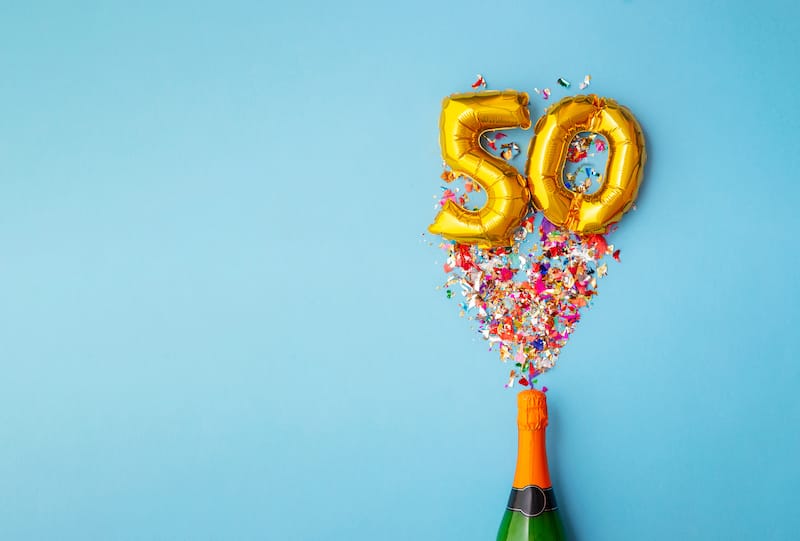 Turning 50 years old is a blessing, and a half-century should be celebrated in style. Whether you plan an intimate gathering at home, a big and bright-themed party, or have decided to tick something off your bucket list with family - you'll find the perfect 50th birthday party idea in our huge list.
Are you planning your own 50th birthday party, or organizing a special soiree for a friend or family member? Either way, there's a celebration guaranteed to delight every 50-year-old in our ultimate guide to 50th birthday party ideas that the guest of honor is sure to love.
Jump to a section, or scroll down the page to see all our ideas.
Retro & Themed | Food | Outdoors | Unique | Home Party
Last updated: August 5, 2022
Retro & Themed 50th Birthday Party Ideas
Retro-themed parties are a lot of fun - dust off the flares, do the "Time Warp" and put a flower in your hair! For year- or decade-themed 50th birthday parties, we have plenty of ideas.
1970s Party: The 1970s was the era of disco dancing! What a perfect excuse to play all those groovy disco hits and do the jive. Just don't forget the big shiny mirror ball.
1980s Party: If the '80s were your favorite era, why not throw a themed party to relive your glory days? The 1980s were a time before you were an adult - think back to high school, cassette mixtapes, and big hair!
1960s Party: Flower Power parties are a lot of fun - do the hippy shake and put a flower in your hair.
1950s Party: Perfect for those nostalgic retro diner vibes, jukeboxes playing Elvis and early rock n roll songs, plus Grease lightning hairstyles!
You can't get much more retro than fondue! This kitsch 1970s eating experience is perfect for lovers of melty cheese and gooey chocolate.
50 years marks a very special "golden jubilee" anniversary, so why not throw a golden-themed bash? Everything from clothing to decorations, even the cake can be glittering gold!
Or why not step up the gold theme a notch or two with an Olympic gold party - complete with games and international food?
Tenpin bowling is an exciting old-school activity. Gather your friends, put on your bowling shoes, and hit a strike.
Bring back the MC Hammer-style happy pants for a 1990's themed birthday bash. Whether Beverly Hills 90210, Clueless, or the Fresh Prince was a favorite, there are some quirky fashion styles to have fun with.
You can make anything and everything into a themed costume party. Why not pick the birthday person's favorite music, movie, or sport genre?
Aloha! Wear your grass skirts and colorful floral lei, and cook up a pig roast for an amazing tropical Luau. Don't forget the coconut cocktails.
Put on your best cowboy hat and boots for a wild-west-themed 50th birthday party with plenty of line dancing at the saloon. You could even splash out and hire a bucking bull.
And to elevate the party to another level? Put a surprise spin on the 50th birthday party and keep it a big secret from the birthday boy or girl until the very last moment. Surprise!!
Food & Drink themed 50th Birthday Parties
Why not theme a party around the birthday person's favorite cuisine? Here are ideas for taste-bud-tempting food-and-drink-themed 50th birthday parties. Bring on the food, drinks, and merriment!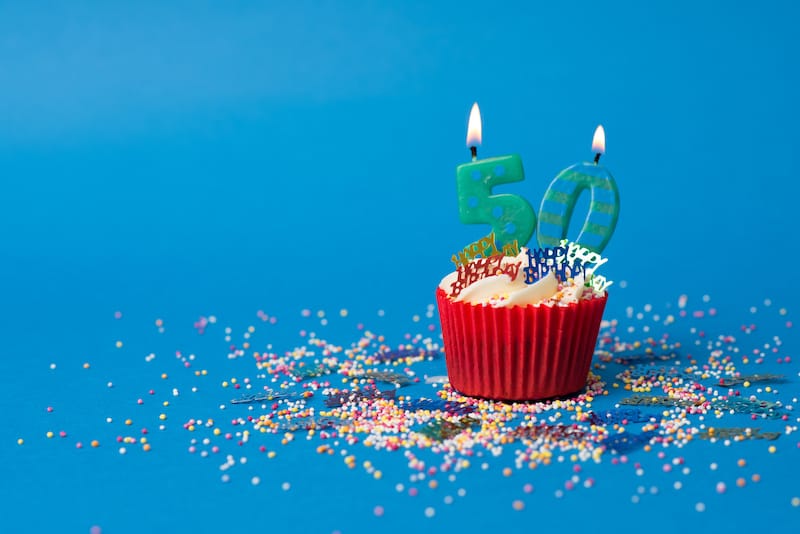 Throw on your sombrero and get out the tequila! Mexican parties are so easy to put together - from quick party food, fun outfits, and even pinatas for games.
Want an extra special 50th dinner party with a difference? Hire a private chef for a delicious and intimate evening, sharing many tasty courses of food with friends or family.
A fun alternative to a sit-down meal is to hold a cocktail party. Guaranteed to have more mingling, bite-sized food, and delicious drinks. It is an excuse to wear your best cocktail outfit too! You could even hire a mixologist and learn to make your own cocktails.
By the time you've reached fifty, some may say you've aged like a fine wine. So, why not throw a wine appreciation party for your friends?
Love beer? Grab your friends and check out a local brewery together or get a keg and enjoy a craft beer 50th birthday party at home.
If the birthday person is also a morning person, they may like to go out for brunch with their besties. What a great excuse for a mimosa or bloody Mary with your scrambled eggs.
Does the birthday boy or girl love to grill? Host a backyard barbecue in their honor! Be sure there are plenty of drool-worthy meats cooked low and slow for everyone to enjoy.
Pinkies out! A vintage tea party is not only a lovely excuse to get dressed up and use Grandma's best china tea cups, there's so much cake too.
Treat yourself to a tasting menu at a fancy restaurant. Many fine dining restaurants have private dining rooms, too - perfect for an intimate gathering with a small group.
Fancy yourself as an Iron Chef? Brush up your culinary skills with a fun cooking class with friends. Best of all, you get to eat your creations afterward.
Set up a whimsical picnic (complete with fun lawn games) in a park or at home for a pretty 50th birthday party.
Pizza parties can be super easy to organize, tasty, casual, and with minimal fuss or mess to clean up.
Many cities offer food and bar tours of hidden gems and foodie hot spots. A fun way of trying a few restaurants in one go.
50th Birthday Party Ideas in the Great Outdoors
Love getting out of the city, enjoying a mini-break, or embracing nature? Theme your 50th birthday celebrations around your love of the great outdoors.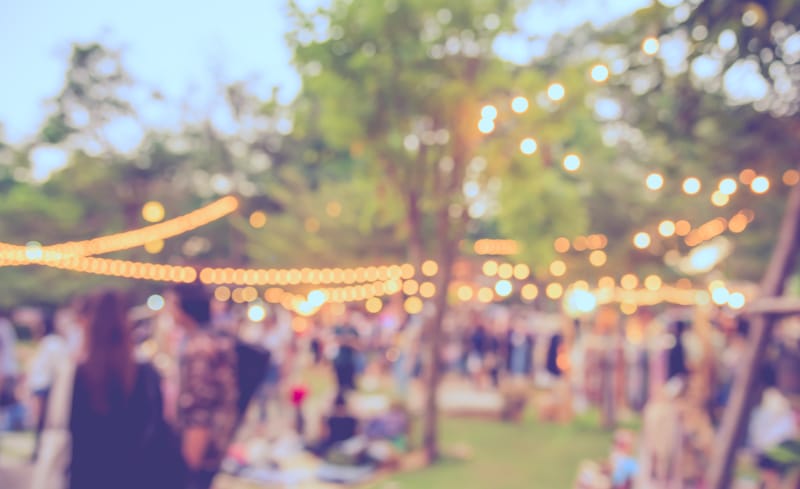 Whether the birthday guy or gal is a happy camper or prefers glamping, a group getaway in the country (complete with tales around the campfire) is sure to be a winner.
The world is your oyster! Book an exciting trip away with family or friends and let the 50th birthday celebration become a weekend-long event.
Love the water? Why not set sail with a yacht charter or short cruise?
Throw a beach party! Chill out on the beach, by the ocean, or on a lake. Be sure to bring the beach volleyball and inflatables for a guaranteed fun time for young and old.
Put on your walking shoes and go for a hike - it's a great way to celebrate "being over the hill". A hike through the countryside or wilderness can be exhilarating. Make sure you end it at a tasty restaurant or with a picnic.
Unique 50th Birthday Party Ideas
Is the birthday person a special individual? Really dig down into their interests to plan a 50th birthday party that is as special as they are. Here are our unique 50th birthday party ideas.
Go horse riding for your 50th birthday. It may be a favorite pastime or something you have never done; either way, it's lots of fun.
Love to get your heart rate pumping? Skydiving is sure to do just that and is a must-do for adrenaline seekers.
Laugh your socks off at a stand-up comedy show. Whether your favorite comedian is in town or you visit a local comedy club - laughter is the best medicine for turning fifty.
Get high with a wonderful ride in a hot air balloon. See the world from another perspective with an amazing view from the clouds.
Head into your 50th year feeling "zen" and relaxed on a spiritual yoga retreat with friends.
Hit the town and see a show with friends. If you love a musical or hitting a jazz bar or live concert, it's always more fun with friends.
Have a night at the movies. Hire a small luxury cinema for your friends and screen your favorite flick for your fiftieth.
If the birthday person is a big kid or gamer at heart, they will love a trip to a game arcade. It will be "on like it's Donkey Kong"!
Go to that big game or a faraway country - be sure to check something off your bucket list.
Looking for 50th birthday party ideas for a woman? If you've reached fifty, it's safe to say you might be feeling a few aches and pains! A relaxing spa day or weekend with your best friends is just what the doctor ordered.
50th Birthday Party Ideas at Home
Sometimes hosting a party at home is the best idea. Rather than hiring a venue, you'll have far more flexibility with decorations, food, and drinks. Here are our ideas for a 50th birthday party at home.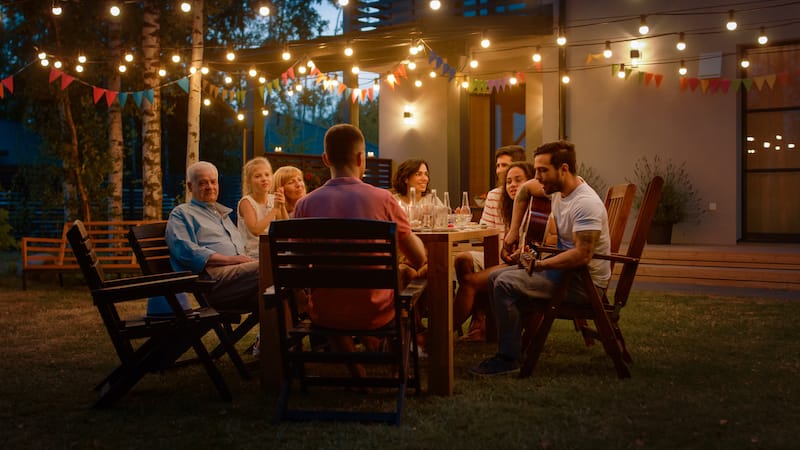 Who did it? Like solving mysteries? Plan a murder mystery-themed 50th birthday party. It will be a scream!
Does the birthday person think they're a whiz with general knowledge? Why not have a trivia night? Be sure that there are plenty of snacks and prizes for the winner.
Did you know that many art and craft instructors can come to you? Unleash your creative side with friends and take an art class, or make crafts with cocktails.
Challenge your friends and family to a game night! Bring out all your favorite board games for a night of fun.
Feeling lucky? Throw a casino party! The house always wins, but a casino-themed 50th birthday party at home, complete with games, is a lot of fun.
If you don't want to hit the bars, a karaoke party at home is still a whole lot of fun! You'll be singing "I Will Survive" all night long.
The ladies will love a flower arranging class. Best of all, they'll be able to take their floral bouquet home to enjoy.
If you're looking for 50th birthday party ideas for men, sport-themed shindigs are often a big winner!
Bring the pampering to you with an at-home mani-pedi or facial party. A perfect girls' night in to celebrate becoming 50.
I hope you liked our party ideas - cheers to the best 50th birthday party ever!
Personalized Funny Definition Poster
Give the birthday boy or gal a good chuckle with a funny definition poster. Customize with their name and your definitions of what it might mean to be fifty.
You can choose different colors and change the wording to be as silly or endearing as you like. It's a fun 50th birthday idea for family members and sure to be the talk of the party!
Looking for more 50th Birthday Ideas?
For funny 50th birthday ideas, do check out our 50th birthday gag gifts page for a huge collection of novelty gag gifts for this "over the hill" birthday occasion!
And if you're looking for inspiration for what to write in a 50th birthday card or speech, we have lots of ideas on our messages, quotes, and jokes pages:
50th birthday quotes
50th birthday wishes
50th birthday jokes
50th birthday poems
100+ Happy Birthday Wishes
Happy Birthday Quotes, Wishes, Videos, and Printables