Money Origami Heart (simple money heart)
Why not fold a money origami heart for your Valentine?

Include a folded heart on the inside of your Valentine's Day card, with a little note saying "treat yourself to something nice!". Or fold this little money heart on any other special occasion, such as part of an anniversary gift or as a birthday gift for a best friend.
Money hearts also make a sweet wedding gift. When my sister got married a little while back, she didn't want any hard-good gifts. So, my husband and I made a couple of these hearts out of 50 dollar bills and taped them into the wedding card that we gave, along with some origami money butterflies . They looked fabulous! ("They" being both the newly-wed couple and the money origami hearts.)
Don't worry if you've never tried dollar bill origami or other paper folding before. This is a simple design, and a good place to start. All you need is a dollar bill, or a 20 dollar bill, or whatever, and with a few origami folds you can make a gift in five minutes :-) Try it on an ordinary piece of paper (cut to size) first though. Okay, let's get started!
First I'll show photo instructions, but if you'd prefer you can scroll to the bottom of the page for video instructions .
Picture Instructions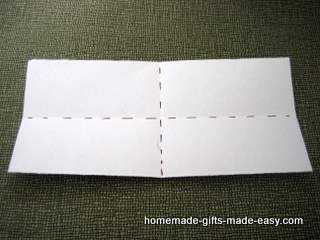 Step 1
: Fold and unfold along the dotted lines shown here.
Step 2
: Fold bottom edge up to meet the centre-line fold from the previous step.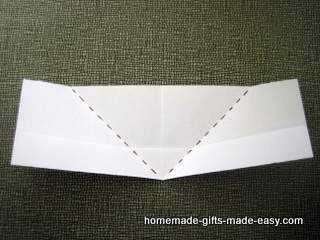 Step 3
: Fold the sides up diagonally to meet the vertical centre-line.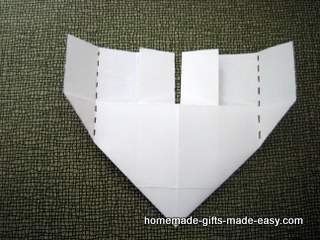 Step 4
: Turn the sheet over, and it should look like this. Now, fold in the sides, along the dotted lines shown here.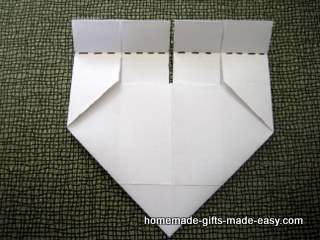 Step 5
: Fold the top flaps down.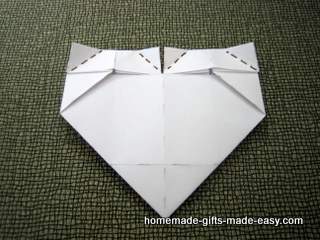 Step 6
: Fold the corners in to make a rounded heart-shape.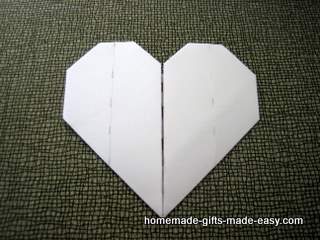 Step 7
: Turn the bill over, you have a little gift for your sweetheart :-)
Video Instructions
Click the image below to play.
What next?
Here are some other projects you might like...
Or check out the full list of all my money origami tutorials.