Money origami
Turn your dollar bills into clothing, hearts, flowers, and more!
Why Money Origami? Sometimes money is the most practical gift you can give.
Especially when you know that the recipient is saving up for something that's important to them. However, there can be something a bit impersonal about giving a cash gift.
The solution: dollar bill origami! Or 10 dollar bill origami, or 100 dollar bill...
By folding money, you can turn a few bills into a gift that's creative and memorable, like a heart or a rose .
By the way, if you're thinking of giving a gift card instead of cash, here's something to consider: In 2006, Best Buy, the home electronics store, made $43 million in revenue from unused gift cards. It really is safer just to give cash - it has no expiry date, and it can be used anywhere.
By giving an origami gift, you will be continuing a long tradition. In ancient Japan, Shinto noble men wrapped wedding gifts of rice wine in origami male and female butterflies representing bride and groom. Samurai warriors also exchanged good luck tokens called 'noshi', made from folded paper and strips of dried meat.
There are literally dozens of ways to fold money, so you can tailor the design to the occasion. Here we'll just focus on a few designs that are deservedly popular because they look great and are easy to fold . Ready? Let's do some origami money folding:
Clothing and Accessories Money Folding
Dollar Bill Ring
: A bit of bling for your finger!
Origami Shirt
: Fold a Money Origami Shirt with my easy step-by-step instructions.
Origami Shirt and Tie
: Fold a shirt
with necktie
, all from a single bill!
Origami Trousers
: Fold some trousers the perfect size to go with the shirt. I'll show you two easy designs.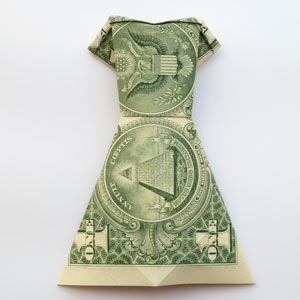 Origami Dress
: Fold this classy dress from a single bill. Looks great next to the shirt and tie - perfect for a cash wedding gift.
Christmas Money Folding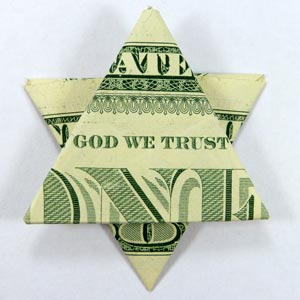 Star
: A six pointed star of David made from a single bill, complete with "god we trust" right in the middle!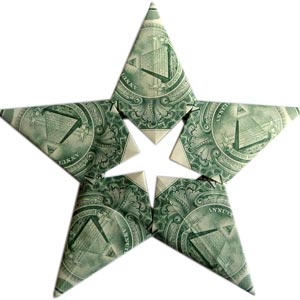 Modular Star
: A five pointed star made from 5 bills slotted together (no glue).
Christmas Tree
: Slip it into a Christmas card
Cute and Romantic Money Origami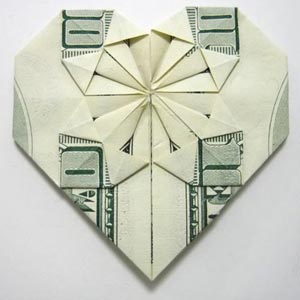 Decorative Heart
: Slightly trickier to fold than the simple heart, but looks really stunning.
Simple Money Origami Heart
: Great for putting in a Valentine's day card.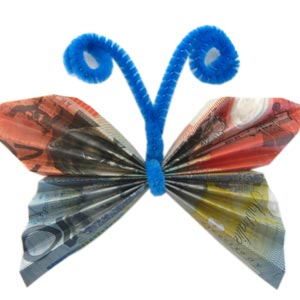 Dollar Origami Butterfly
: This butterfly is easy to make, and looks cute! Folded from two notes.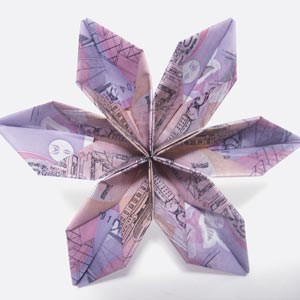 Origami Money Flowers
: Make a money bouquet to say "congratulations!". Ideal for weddings and graduations. I'm not sure what species of flowers these are, but they sure are pretty. As an added bonus, they're really easy to make, too.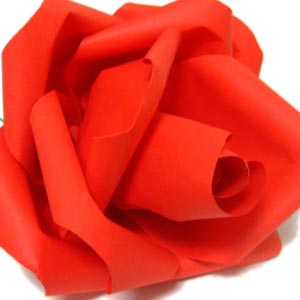 Dollar Bill Rose
: The best money rose design I've come across, and I've tried several. Go ahead and make one, and you'll be amazed at how gorgeous and lifelike it looks.
That's it for the tutorials on my website, but if you're interested in learning more, then why not check out one of the many money origami books on amazon.
Other People Also Like...
Looking for more unique homemade gift ideas? Check out our quick and easy printable gifts. So easy to personalize and print at home!