85 Best Good Morning Messages for Her: Love Notes and Texts
Last updated: August 10, 2023
The sun is up, the coffee's brewing, and you want to send a good morning message to her to brighten her day. Good idea! Whether she's an early riser or someone who cherishes a few extra minutes of sleep, sending her words of affirmation, support, and even a little laughter can bring her a smile when she wakes. A well-chosen message can be her first smile of the day.
You don't need a special holiday to send a good morning text message to your loved one or friend. You might be surprised about how special you can make someone feel just by letting them know that you're thinking of them. A kind or sweet message can offer incredible motivation, as well as an uplifting mindset for a long day ahead.
Not to mention, good morning messages can have a romantic element, too. They're a good way to remind her of how much you've enjoyed spending time with her while increasing the anticipation for an upcoming date.
These good morning text messages are perfect for a variety of occasions or everyday scenarios. Some are kind and affirming to offer inspiration and motivation, while others are flirty and romantic to demonstrate your love and affection. And don't forget to add in a little humor with a funny good morning message that will make her laugh all day long.
You can scroll down to read our full collection of good morning messages for her or use the navigation below to jump between topics.
Short | Funny | Romantic | Motivational | For Friends | Long Distance | Quotations
Short & Sweet Good Morning Texts for Her
These quick good morning messages for her are a great way to start any day. They're ideal for expressing affection and warmth to your special someone.
Good morning, beautiful! I hope you have a wonderful day.
You were the first thing on my mind as soon as I woke up.
Rise and shine, gorgeous! I'll be counting down the seconds until I get to see you.
Ring! Ring! Time to wake up, babe. Open your eyes and see the beautiful morning.
You're the reason for the bounce in my step as I start my day.
Good morning, babe. Coffee is just a sip away, and I can't wait to see that infectious smile of yours.
Morning! Hope this didn't wake you up. I just need you to know you're my favorite!
Good morning. I hope you're well-rested and feeling bright!
I hope you have a great day at work!
Wake now, my love. We have so many incredible things to look forward to today.
I don't know what I did to deserve you, but every morning I'm so grateful for it.
Just so you know, I'll be thinking about you all day long.
A smile like yours could brighten up even the rainiest morning!
Sorry I can't be there when you wake up. I left some coffee on the counter for you.
Good morning! Just seeing your name flash across my phone screen gives me warm fuzzies.
Funny Good Morning Messages for Her
Once you get her laughing in the morning, you'll want that joy to last all day. Send her a funny message that'll wake her up with a smile and set a fun tone for the rest of her day. Just don't be disappointed if she doesn't respond immediately. After all, she might still be asleep.
Morning, gorgeous. I hope you were dreaming about me with that big smile on your face... Otherwise, I'm going to need the names and numbers of my competition.
Ring! Ring! It's your handsome sleep doctor here with your daily dose of laughter. Q. Why did the bicycle fall over in the morning? A. Because it was two-tired. Now, go get some coffee before you're too groggy!
Morning babe! I'm keeping this message brief so I can hurry back to you as soon as I can!
There's nothing I love more than the scent of coffee in the morning--except you of course!
By this time, I predict that you've already hit the snooze button approximately three times. Wish I were there to sleep in with you!
If you wake up and smell a delicious breakfast of eggs and French toast... you might be hallucinating. Anyways, I poured you some cereal.
Each morning, I choose you to be mine. It's all about you: the cute sounds you make in the morning, the way I wake up energized at just the thought of you, and your aroma that fills the house with warmth. Oh coffee! Coffee, how I adore you.
I dare you to try and not think of me at all today! Already lost? Oh well, I'll call that a win.
Time to get up, lazy bones! Or I'll drink all the coffee and leave none for you!
Good morning! It's fine if you want to turn the alarm back off. I won't tell a soul.
Flirty & Romantic Morning Messages for Her
These flirty and romantic good morning messages will make sure that you're the one she's thinking about first thing in the morning so that you'll be on her mind all day.
Good morning sweetheart, I can't wait to see your smile today.
Last night, I went to sleep with you on my mind, and this morning I found myself immediately thinking about you as soon as I got up.
Every morning I find myself grateful that I get to wake up next to you. Your closed eyes, your cute bedhead, your drowsy smile-I can't get enough.
You looked so adorably cozy this morning, I wish I could have taken you with me. I hope you rolled over and got some more sleep. Love you.
Good morning, sunshine! It's because of you that my coffee tastes so good and my day seems so bright.
I don't know what I did to deserve you, but every morning I'm so grateful for it.
I haven't even seen you yet, and I just know that you look gorgeous right now.
If you're reading this, then you must be awake. And that means it's time for me to give you your daily hugs and kisses.
When I wake with you still in my arms, it's like waking from the best dream of my life. I'll be thinking of you all day long.
It's my favorite thing that I get to spend all my days with you. I'm looking forward to seeing you tonight, my love.
There's nothing sweeter than hearing the sound of your laughter in the morning.
I used to hate mornings, but now I can't wait to get up and spend the day with you. You make each moment worthwhile.
Hey babe, my morning was lonesome without you. I hope you'll save a kiss for me today.
Each morning that I wake up beside you, my love for you grows even more. I'm looking forward to all the wonderful things that come with getting to know you better.
Good morning, sexy! The day has just begun, and I'm already looking forward to spending the evening with you.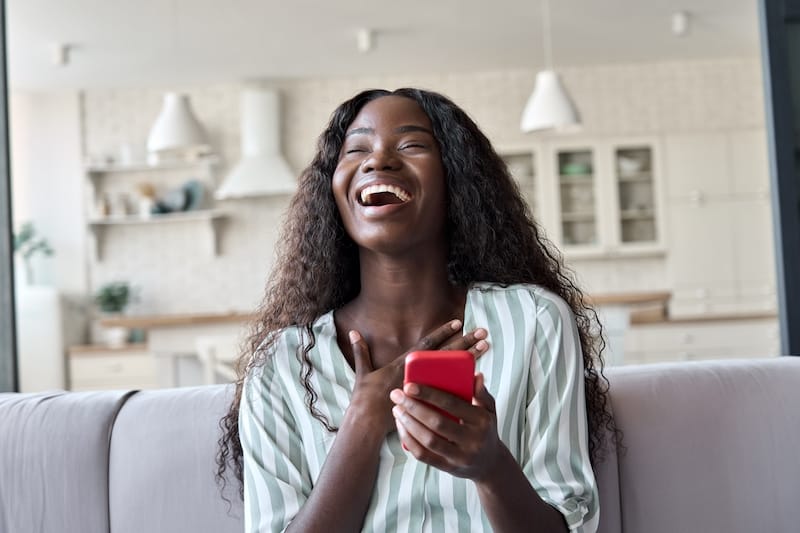 Motivational & Inspiring Morning Greetings for Her
Everyone has those mornings when they could use a hand getting motivated. Sometimes, saying affirmations to ourselves in the mirror just isn't enough. And, on those days, sweet and affirming messages from a loved one can help boost us out of a bleak mood to start the day on a much better footing.
Good morning to the most inspiring person I know.
Remember: You're unstoppable and you're going to nail it today!
I'm thinking about you this morning. Always remember that you are braver and stronger than you know.
Before you start to stress about all you have to do today, stretch your legs, take a deep breath, and have some coffee. You can handle anything this day throws at you.
I'm thinking of you, and I know you'll do great today!
I heard things have been tough. Let me know if there's anything you need. Remember, you're strong and courageous, and I believe in your ability to get through today and any other day.
It's a new day for you to start fresh and energized.
You always inspire me to reach my goals and become a better person. Today, I'm returning the favor. So, here, borrow some of my energy. I know that you'll rock this day.
Each day is a blessing and an opportunity to get out there and do the most we can. Here's to another beautiful morning.
Reminder! You are the kindest, sweetest, and most wonderful person I know, and the world is a better place with you around.
Good Morning Greetings for a Friend
Good friends could use a morning pick-me-up too. These messages are supportive and kind without being overly romantic, to give your friends a boost in the morning, especially when you know they need it.
You're in my thoughts today. Hope you have a good one, and I look forward to when I can see you again.
Take care of yourself today, friend.
Good morning to my awesome, amazing, rockstar friend. Knock 'em dead today!
Just a reminder that you're the fiercest, smartest, coolest person I know.
Hi, and good morning! I'm so lucky to have someone like you in my life.
Rise and shine and enjoy your day!
May this new day bless you with wonders and new hopes.
Just remember, nothing's impossible. Whatever you're facing, I'll be right there with you.
I hope that something exciting and incredible happens for you today!
I just woke up thinking about how kind and supportive you were [last night / yesterday / etc.]. Thanks again, and I hope you have a wonderful day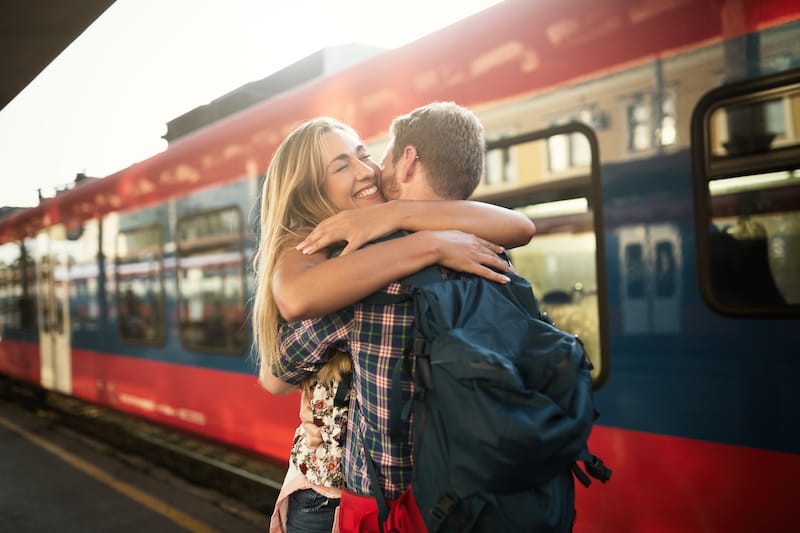 Good Morning Messages for Her in a Long Distance Relationship
Communication and openness are key to maintaining strong long-distance relationships. Here are a few ways to open the conversation in the morning. Draw on your mutual longing and affection, and the rest will follow. That way, you'll feel comfortable talking all day if you want.
Sending you morning hugs and kisses from far away!
It's such a pretty day here where I am that it immediately made me think of you.
The only thing that would make this morning better would be the chance to cuddle with you in bed.
Hey, are you awake yet? Miss you.
Good morning! I hope you slept well last night even though I wasn't there to hold you tight. Don't worry, I'll be home soon. Until then, have an incredible day.
Though I can't be with you this morning, I just want you to know that I'm thinking of you now and always.
Each time I have a notification from you, I know that no matter how far apart we are, we're still together and supporting each other.
When we're not together, I always feel like something's missing. I can't wait for the day we don't have to say goodbye.
Even though I'm having a great time here, every morning I think about just how much I miss you. Wish you were here, and counting down the days until I get to see you again.
I know we just left each other, and yet here I am still thinking about our goodbye kiss. I hope you're having a beautiful morning. Love you.
Good Morning Quotes for Her
Everyone has to wake up at some point, which makes these quotes about mornings and waking up very relatable. Whether you're looking for something motivational or a way to sympathize for a groggy morning, one of these quotes will start the conversation off right.
"What you do today can improve all your tomorrows."
~ Ralph Marston
"The breeze at dawn has secrets to tell you. Don't go back to sleep."
~ Rumi
"I like my coffee black and my mornings bright."
~ Terri Guillemets
"I've got nothing to say but it's okay, good morning, good morning"
~ The Beatles
"You can only come to the morning through the shadows."
~ J.R.R. Tolkien
"Make each day your masterpiece."
~ John Wooden
"Think in the morning. Act in the noon. Eat in the evening. Sleep in the night."
~ William Blake
"Every morning, you have two choices: continue to sleep with your dreams or wake up and chase them."
~ Arnold Schwarzenegger
"In the morning, instead of saying to yourself, 'I got to wake up' say 'I get to wake up!'"
~ Erykah Badu
"I arise in the morning torn between a desire to improve the world and a desire to enjoy the world."
~ E. B. White
"Every morning is a reminder to let go of the past and embrace the present."
~ Tonmoy Acharjee
"Today's goals: coffee and kindness. Maybe two coffees, and then kindness."
~ Nanea Hoffman
"Good morning is a contradiction of terms."
~ Jim Davis
"Every day, I want to sleep in your arms and wake up by your side in the mornings."
~ Jagdish Joghee
"Morning will come, it has no choice."
~ Marty Rubin
More Good Morning Messages for Her
Are you looking for more good morning messages for her? There are some beautiful, romantic, funny, and heart-warming wishes and poems to be found on these other pages too:
Love Messages for Her
Love Quotes for Her
Love Poems for Her
Love Letters for Her
Love Poems
Funny Love Quotes
Quotes for Your Boyfriend
Happy Anniversary Messages
Anniversary Quotes
Anniversary Poems
Valentine Card Sayings
Love Quotes for Him
Love Messages for Him
Love Poems for Him
Love Letters for Him
Free Printable Anniversary Cards
Is it your anniversary coming up soon? Check out our sweet collection of printable anniversary cards to give to your girlfriend, wife, or partner, and let them know how special they truly are!