Inexpensive Homemade Christmas Gifts
Looking for inexpensive homemade Christmas gifts? We have fabulous ideas to help save you money, time, and stress this holiday season.
On this page you'll find links to many of our printable gifts, which are all super affordable and easy to make.
We put all the design work in for you, and so all you have to do is personalize your gift online and print at home or your local print-shop.
Sometimes at the last minute you need a gift but you don't have the right craft materials or equipment to make the gift you've seen on Pinterest, we've all been there! But with this collection all you need is a printer and some thoughtful creativity.
If you're looking for more craft-based homemade Christmas gift ideas, check out our collection of tutorials on our Christmas gifts page.
Romantic Coupons
Christmas is a wonderful excuse to be romantic! These printable love coupons are a gift that keep giving, and with editable text you can tailor them perfectly to your loved one.
These are a fabulous last minute homemade Christmas gift idea too, for those of you who've left it a little late this year...
Click here to personalize and print your romantic coupons
Coupons for Mom or Dad
Make your mom's day with a beautiful booklet of personalized coupons. My personal favorite coupons are "breakfast in bed" and "I'll do a chore of your choice" :-)
Personalize your Coupons for Mom
And don't forget dad! If he's anything like my dad, he'll appreciate a coupon with "1 day king of the remote control"!
Personalize your Coupons for Dad
"Things we Love" Poster
Make a personalised poster of all the things you and your husband (best friend, sister, family...) love doing together!
These posters are so quick to make and have lots of gorgeous color palettes to choose from. It's such a simple idea but shows that you've really thought about the person you're making it for, and is worth so much more than a cheap pair of socks from the store!
Click here to personalize and print your poster
There is also a "Remember When" version, where you can reminisce over all fun things you've done together in the past. I've got one up in my house and I get warm-fuzzies every time I see it.
Personalized "Likes Poster"
A "likes poster" is more than a just a gift, it's a compliment, because it shows how well you know a person and all the quirky things they like.
Making your poster is easy - our poster generator takes care of all the formatting for you.
Definition Posters
Looking for a special gift idea for your mom or dad? Make a personalized poster with a 'dictionary definition' of Mom or Dad, which celebrates all the fabulous things about your them. Making your poster is easy with our online poster-generator.
Click here to personalize and print your "Mom Definition" poster
What does your dad mean to you? Let him know with this fun and quirky inexpensive homemade christmas gift for Dad.
Click here to generate your personalized "Dad Definition" poster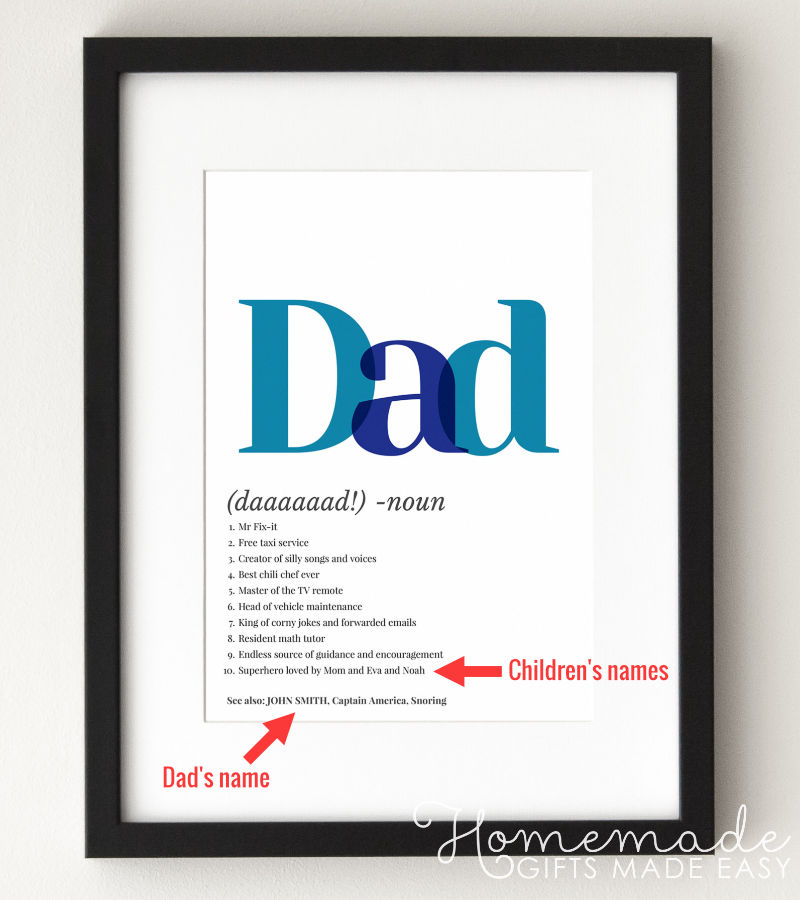 Christmas Traditions Home Decor Poster
Looking for something special for your Mom or Dad? Make them a poster celebrating your family's particular Christmas traditions. It's easy using our subway-art poster generator.
Click here to personalize and print your poster
Or check out these really beautiful and easy to make "likes" posters you can personalize to members of your family!
Funny Newspaper
Use our newspaper generator to make a funny newspaper article about how your dad (or grandad) is Santa's closest relative :-)
I love this idea, it's perfect for the guy who has everything and is hard to buy for. It's a good laugh for everyone at the Christmas party or dinner table, and is fun to make and personalize. A very unique and inexpensive homemade Christmas gift idea.
Other Inexpensive Homemade Christmas Gifts...
Possibly the quickest gift of all is to give cash, but that can seem a bit impersonal, like you really did forget to buy them a present! But by folding cash in an origami design, you transform it into a creative and memorable gift. Pick one of the designs below or see more on our money origami page . All designs with full step-by-step instructions, suitable even for beginners.
I hope you found these inexpensive homemade Christmas gift ideas helpful and that you found something you'd like to make.